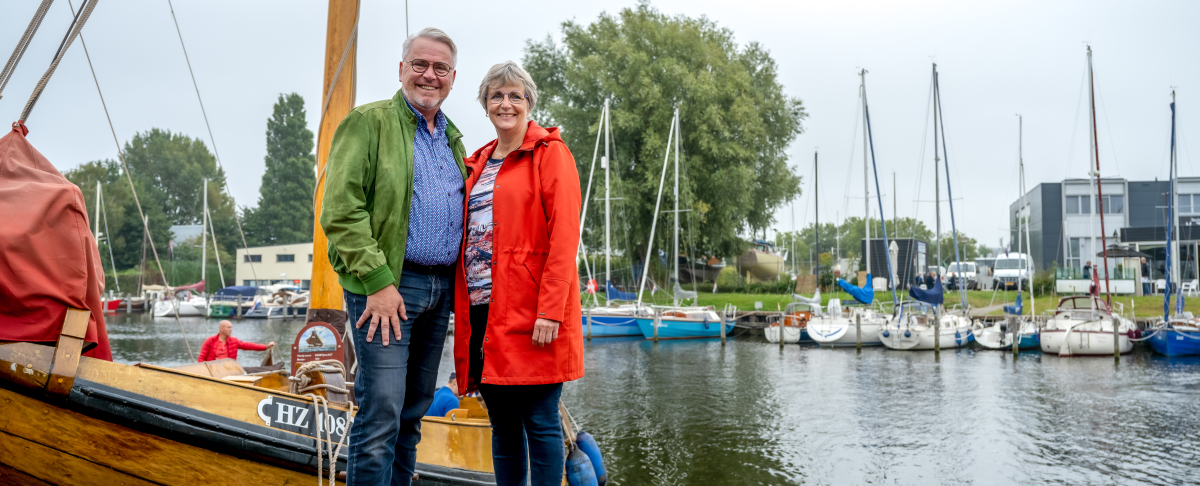 Welcome to Huizen, harbour town of Het Gooi, destination for river cruises
You can moor at a wellequipped landing stage in the Nautical Quarter. The picturesque buildings in the Nautical Quarter are built in the same style as those of the former Zuiderzee villages. There are various restaurants and cafés with waterside terraces as well as a hotel. The Nautical Quarter is a tourist transfer point, where bicycles and e-bikes can be hired. There is plenty of parking for coaches and buses. At the Old Harbour you will find Kalkovens restaurant and the Botterwerf boat yard, complete with forge.
More information about the fishing history and maritime heritage of Huizen can be found at the Botterwerf and in the Huizer Museum. The botters that still exist are painstakingly maintained and can be hired complete with crew for pleasure trips. Although Huizen is known as a former fishing village, the population originally consisted of farmers who let their livestock graze on common land. Several farms dating from that time can still be found around the Dutch Protestant church, the oldest building in the old village of Huizen. The walking route Huizer Melkmeisje passes through the historical streets and past the farms that have been preserved. This walking route can be obtained from the VVV tourist information desk in the Huizer Museum, which is located in the old village. A tour guide for the walk can also be arranged.

Cruise boats anchor in the garden of Amsterdam
A number of authentic botters are also moored there. These historical fishing boats are a reminder of the rich past of Huizen as an important fishing village on the former Zuiderzee. This harbour housed more than 280 botters in the late nineteenth century. After the construction of the Afsluitdijk, the saltwater Zuiderzee was transformed into the freshwater IJsselmeer, bringing an end to the fishing industry in Huizen.
The Huizer Museum is a cultural history museum which depicts the history of Huizen and preserves and manages the historical objects. Huizen has a charming shopping centre with several pavement cafés. Huizen also has plenty to offer cyclists. Huizen Statues and Works of Art is an inspirational cycling trip that passes around thirty statues that are erected in public places. A route map can be obtained from the VVV desk in the Huizer Museum. The Erfgooiers route, the Gooilust route and the Gooische Rijkdom culinary cycle route are also very interesting. Huizen is surrounded by woods and heath and is close to the expansive grasslands of the Eemdal. The Eemland cycle boat moors in the Old Harbour. This boat sails the river Eem stopping at Eemdijk, Baarn, Soest and Amersfoort.

Facilities available
Huizen is a new destination for river cruises. Member of Amsterdam Cruise Port. 
Amsterdam, Amsterdam Castle Muiderslot, Utrecht and many other appealing locations can be reached within 30 minutes.
The landing stage in the service harbour has been constructed according to the latest safety requirements and has good lighting, lifebuoys and other safety measures. 
The landing stage is approximately 70 metres long and can accommodate two boats with a maximum length of 135 metres (side by side). •
On the landing stage there are two powerlock electrical systems providing an onshore power supply of 2 x 400 amperes, as well as high-voltage connections for motor charters. The use of onshore power is compulsory.
Of course, it is also possible to fill the water tank, with a capacity of 10m3 per hour.
If desired, services for the collection of waste, waste water, bilge water and sceptic tanks are offered by specialised and certified local businesses.
There are parking spaces for coaches very close to the landing stage. These parking facilities are intended only to allow passengers to board and alight. Long-stay parking is not permitted